Accessibility at UConn
UConn is committed to providing equal access and full participation for individuals  with disabilities within all University programs and activities. The Office of Institutional Equity (OIE) monitors the University's compliance with the Americans with Disabilities Act (ADA) and Section 504 of the Rehabilitation Act. The Associate Vice President of OIE serves as UConn's ADA Coordinator and Section 504 Coordinator. These statutes prohibit discrimination on the basis of disability in any service, program or activity. In particular, OIE has responsibility for:
resolving allegations of discrimination based on disability
overseeing and ensuring University compliance with all relevant laws and regulations related to the ADA and Section 504
providing consultation, information and referral to appropriate resources for disability‐related issues
providing training regarding the ADA and Section 504
This website serves as a central resource for information related to accessibility at UConn. Anyone with questions or concerns can contact the ADA Coordinator/OIE by telephone: 860-486‐2943; email equity@uconn.edu; or in person: 241 Glenbrook Road, Unit 4175, Storrs, CT 06269-4175, Wood Hall.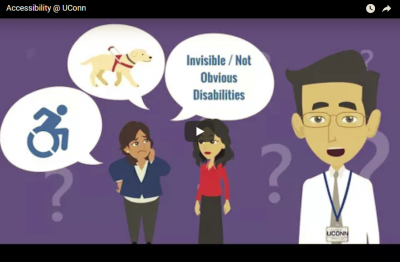 Resource Guide for Accessibility at UConn
ADA / Section 504 Coordinator
Letissa Reid, J.D.
Associate Vice President
Office of Institutional Equity (OIE)
241 Glenbrook Rd., Unit 4175
Storrs, CT 06269
Tel: (860) 486‐2943
letissa.reid@uconn.edu
Deputy ADA Coordinator
Stephanie Hackett, M.S.
Office of Institutional Equity (OIE)
241 Glenbrook Rd., Unit 4175
Storrs, CT 06269
Tel: (860) 486‐4957
stephanie.hackett@uconn.edu
Accommodations are adaptations and/or adjustment to an academic, living, and work environments. Visitors and guests to the University may also receive accommodations to fully participate in an event, activity or program.
American Sign Language Interpretation or Communication Access Realtime Transcription (CART) for classes, programs or events are available through the University of Connecticut Interpreting Services (UCIS). Videophones and assistive listening devices are also available on campus.
Each of the UConn campuses have their own unique landscape and facilities. UConn Storrs is a campus founded on rolling peaks and valleys. Information for getting around each campus includes maps, transportation and parking services.
UConn strives to ensure physical, electronic, and programmatic access for persons with disabilities. Any access concerns may be submitted via an Accessibility Issue Form.