Policies and Procedures
The following links point to a collection of policies, procedures, and offices that support the needs of campus community members with disabilities. Some resources listed below are targeted specifically to the needs of students, while others are geared to support faculty, staff, or campus guests and visitors.
The overarching University of Connecticut policy on non-discrimination is as follows:
The University of Connecticut, in accordance with applicable Federal and State law and University policy, does not discriminate on the basis of race, color, national origin, religion, sex, gender identity, pregnancy, disability, age, medical condition (cancer-related), ancestry, marital status, citizenship, sexual orientation, or status as a Vietnam-era veteran or special disabled veteran. The University also prohibits sexual harassment. This nondiscrimination policy covers admission, access, and treatment in University programs and activities.
Any questions regarding a policy may be directed to the policy owner or the Office of Institutional Equity at 860-486-2943 or equity@uconn.edu.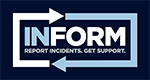 InForm is a tool to help the UConn community navigate the reporting process and support available for a variety of incidents including bias, harassment, safety concerns, and other types of misconduct.